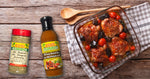 Serves: 4 |  Preparation time: 5 minutes |  Cooking time: 20 minutes
Ingredients




Directions


1.

Preheat grill pan or griddle over medium high heat

.



2.

Pour 2 tablespoons vegetable oil into a small saucepan over moderate heat. Add red onions and saute 3 to 5 minutes. Add vinegar and reduce by half, 1 to 2 minutes. Add brown sugar and cook 1 minute to incorporate. Whisk in broth and honey mustard sauce, all purpose seasoning and curry powder. Bring sauce to a bubble and reduce heat to lowest setting.



3.

Coat chicken with a drizzle of oil and salt and pepper, to your taste. Place chicken on hot grill and cook 4 or 5 minutes, then turn. Baste chicken liberally with sauce and cook another 5 minutes. Turn once again and baste. Cook 2 or 3 minutes more to cook through and transfer chicken to a platter and serve

.



4.

Enjoy.